If you're after something a little more contemporary looking but your budget won't stretch to Cedar then a slatted fence using standard tanalised wooden battens instead could be your answer.

Preparation
Measure the exact length of where you want to build a slatted fence.

If you're using existing fence posts bear in mind softwood battens can bow over time, so we would advise fitting posts in between if the space is over 1.8m. This allows you to secure the wood a bit more than if it was fastened at larger intervals.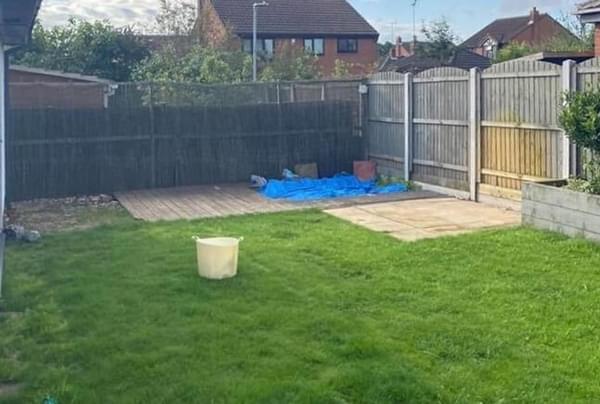 Before
Decide on the height you'd like your fence to be, then work out the order and pattern you'd like your slats to be. Don't forget anything over 2m requires planning permission.

Also, try to keep in mind that building a fence like this is not a quick fix. It's important to take your time planning and constructing your fencing. You'll also have to regularly inspect and treat it to keep it looking great!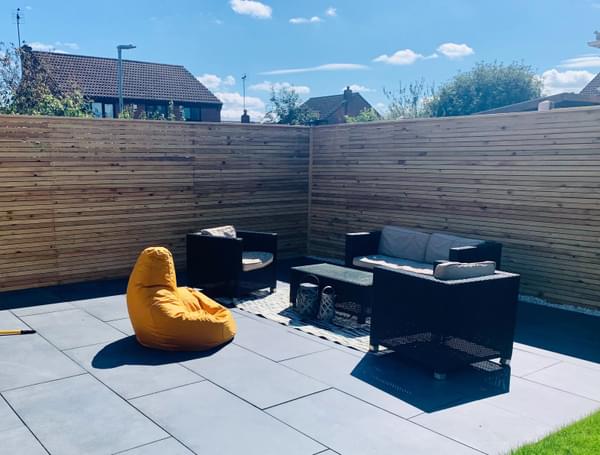 After
Build
1. Install the fence posts
First, you need to install the fence posts if you are not attached to existing posts or are adding strength between the posts. See our guide on how to install fence posts.
2. Starting to add the slats
Adding the slats will take a lot of time but it's important not to rush. Starting with the bottom row, attach the first piece of timber with your nailer. Make sure it's perfectly level, as this piece will be the guide for all others.
Once the full first row is installed, lay a placeholder piece on top of the panel. This will be the visible gap between the panels. Use some offcuts of wood that are still lying around, but you could use anything as long as it's firm. Tip – try layering a few battens before you start nailing to make sure you are happy with the space between.
Then lay your second slat onto the placeholders, push it down firmly and nail into place. Remove the placeholder pieces and lay them on top of your new slatted panel piece. Add the next panel, nail it into place and repeat the process until you reach the top of the fence posts.
3. Bring out the natural beauty.
If you want to bring out the natural grains in the wood and create a deeper colour, then finishing off with an oil or stain can help you achieve this look.
4. Stand back and admire your new slatted fence.
Did you know that slatted fence panels can be a quick and easy way to achieve this contemporary look, without compromising on quality?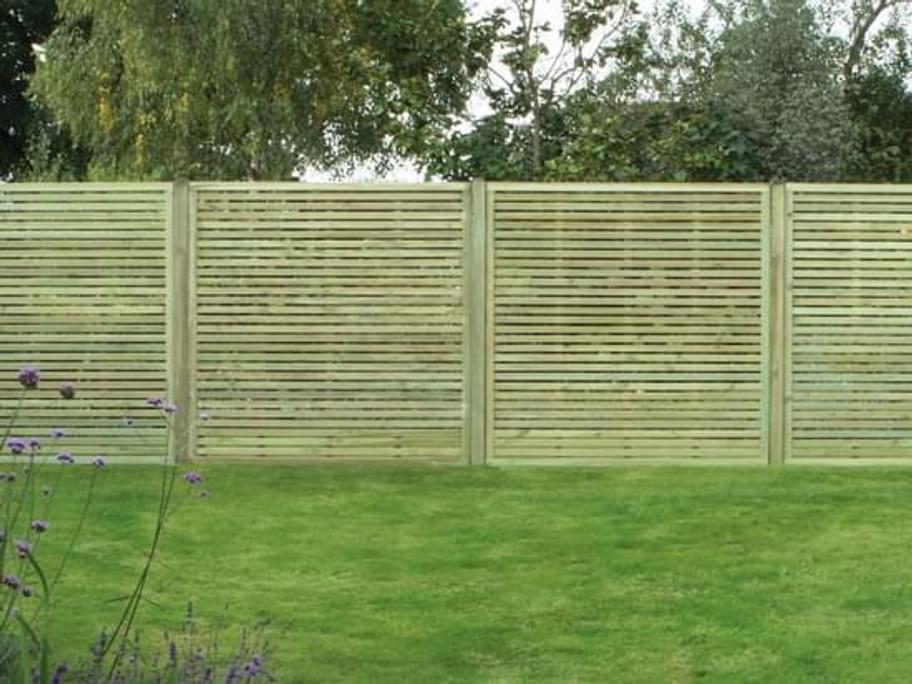 Our slatted fence panels are robust and constructed from premium quality materials. Slatted fence panel are a great way to let air flow through your fence while creating privacy – and their ultra-modern design makes them a quick and easy way to elevate the look of your property.
We sell a range of different sizes, from 6X3 to 6X6, so you can choose the exact right size slatted fence panel for your needs. And don't forget, if you need to talk to someone about your requirements, our team are always on hand to help – just give us a call!
What you'll need
Tools:
posthole digger
nailer
spirit level
tape measure
clamps
Supplies:
2.4m fence posts (or whichever size you require)
nails – make sure that you used galvanised or even better stainless steel ones; otherwise, they may rust.
Oil, stain or paint if you don't want the natural finish
For a quick installation without compromising on quality