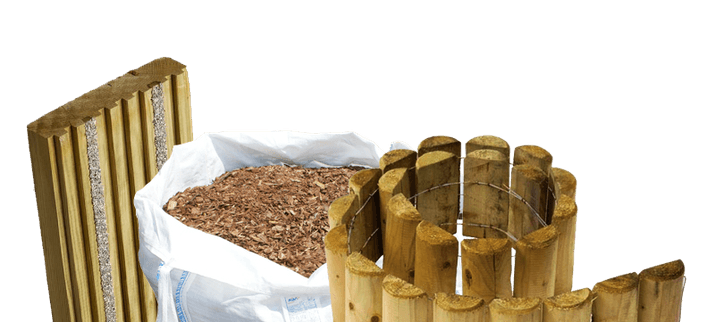 Landscaping
Our landscaping range has been put together to help create a garden to be proud of at home or a smart outdoor area to work, rest or play.
---
Landscaping
In addition to various options on decking boards we offer all the products you need to complete your decking project from joists and balustrading to specialist fixings, screws and timber treatment to ensure your decking will remain tip top for many years to come.
Other hard landscaping products include solid timber pressure treated sleepers, ideal when you need to support levels or create a feature as well as timber edging to define and manage paths and borders to stay smart, neat and tidy for many years to come.

And then to finish the landscaping we have supply geotextile membranes designed to reduce weed growth as well as bark and woodchip to improve the appearance of borders, reduce weeds and the need for watering through the summer months.
All products can be seen at our Walford showroom and if you have any questions please call us on 01442 866264.
Installation Advice – Raised Decking
Before you start
Depending on the type of deck you wish to build and its level of complexity, building your deck may be more than a one person job so it's always a good idea to have someone assisting you.
You must ensure that there are no cables or pipes underneath where you want to dig out your deck area and if there are consider if you will need easy access to these before you start.
Typical materials needed:
Decking boards, joists, joist hangers, decking screws and fixings, timber treatment, balustrade components, geotextile membrane, gravel, quick drying concrete.
Typical tools needed:
Tape measure, builder's line or string, hammer, saw, screwdriver, half-moon lawn edger, spade, spirit level, builders square, and pencil.
Site preparation
Measure out the site and run a builder's line from corner to corner to help visualise the site.
Clear away all vegetation and rocks within this marked site.
If clearing turf, its best to use a lawn edger and remove the grass with a spade.
Square the sides
Its best to ensure that the sides of the deck are completely square as the decking will be laid with joist support posts concreted into position that once installed cannot be easily moved if in the wrong place
When you have positioned everything it's a good idea to run a string diagonally from corner to corner. If it's the same length each time your corners are square.
Fixing the joists posts
If your raised decking is being sited next to your home you need to fit a joist directly to the wall and then the frame is built from this first timber.
For joist posts, these need to be sunk each time into an approx

700

mm deep hole in the ground and then set squarely in place with quick drying postcrete approx.

1500

mm apart. Check they are level and the same height using a line and spirit level.
Finally when the posts have hardened off and are secure, fit a sheet of geotextile membrane around the posts and cover it with gravel to stop weed growth.
Building your joist frame
Cut the outer joists of the sub-frame to length, remembering to allow for overlapping corner joints.
For extra strength it's a good idea to put two support beams onto every second post along the length of the deck.
Cut the inner joists to length and attach to the outer joists.
For timber deck boards in a horizontal pattern, the joist centres should normally be a maximum of

450

mm apart and

300

mm if laying diagonally.
If you are having a balustrade on your decking, it's easier to attach it after you've built the sub-frame, but before you lay the deck boards so you can slot them to fit around them.
Laying Decking Boards
Your decking boards need to run in the opposite direction to the joists.
Its best to lay boards at the outer edge of the sub-frame and move inwards.