Fence PanelsAt this time of year, when climbing plants are in full bloom, trellis really comes into its own. But did you know that there are many other brilliant uses for it? Timber trellis can often be one of the most underrated garden products available. As well as being practical, it can showcase an area, while hiding unsightly spots of the garden at the same time.
We have a large range of trellis. This includes diamond and large or small square panels, as well as a decorative style that can be added to current fencing. We also have a traditional wall-mounted fan trellis.

Take a look at our top 5 uses…
Using trellis for planters
Our fan trellis is made in our workshop and can be attached to a fence panel or wall above the soil or a garden planter. Climbing plants like honeysuckle and clematis will naturally find their way along the wooden battens and establish themselves; they're perennial so they will come back every year.
Placing fan trellis on fence posts at intervals along your boundary creates a stunning feature that is easy to achieve and still looks great in the winter months when everything has died off. Have a think about the sort of colours you want in your garden; then choose plants to suit, or use it to control creeping veg like marrow or cucumber.

Timber trellis to create privacy
Timber trellis will give you a sense of privacy in an outdoor space, but the design of the panels means that sunlight will still be able to make its way through.
Choose a full trellis like the lattice panel or top your current fence with something like our Diamond Lattice Decorative Panel – you should keep in mind though that it counts as part of the fence it is attached to. If it exceeds two metres you'll probably need planning permission. It's always best to check the regulations with your local authority.
Alternatively, you can go for a combination of trellis and panel. Our Omega Lattice Top Panel combines a solid fence panel with a decorative, convex shaped trellis in one easy to install fencing panel. It's a brilliant looking panel with a 10-year guarantee. The panel also comes in under two meters and gives you privacy without compromising on light.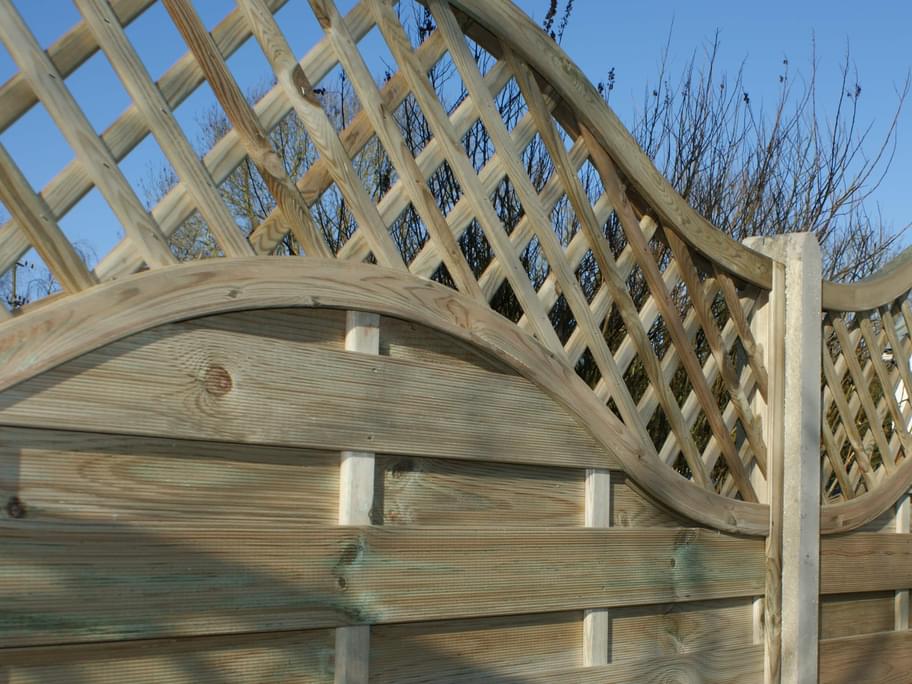 Improve the look of your boundaries
Lattice panels can be installed in front of current fencing or hedges and will make the area more attractive or give climbing plants something to grow along. Which is particularly useful on boundaries that are not your responsibility.
If you're looking to attach the panels to current fencing and it's not your boundary, you will need your neighbour's permission first. If they don't agree you can create a fence in lattice on your own property just in front of the boundary.

Creating garden rooms with trellis
Using trellis as a screen is a perfect way to carve out a little spot in your garden for relaxing or entertaining. Painting wooden trellis is a quick way to add a bit of character to your area. Paint trellis and garden furniture in matching colours or contrast for more of a bold look.
Screening areas with trellis
You can also use trellis to cover up unsightly areas. Use it to cover septic tanks and other utilities, a compost heap or an overgrown area that you're not yet ready to tackle – even the bins, trellis will create a boundary and do the trick.
There are so many combinations available in addition to the standard rectangular panel we automatically think of. We supply a range of styles including full-size trellis panels with concave or convex tops so you can really get creative with your design.
Trellis can be a simple, cost-effective way to improve any space. You should remember though, it's your responsibility to check that anything you instal meets your local regulations – but once you've done this, it's just a matter of picking a style and size to suit you!
Did you know that we have a professional installer network? Why not find out more about getting a quote.