Case Studies
Pergola
1st March 2018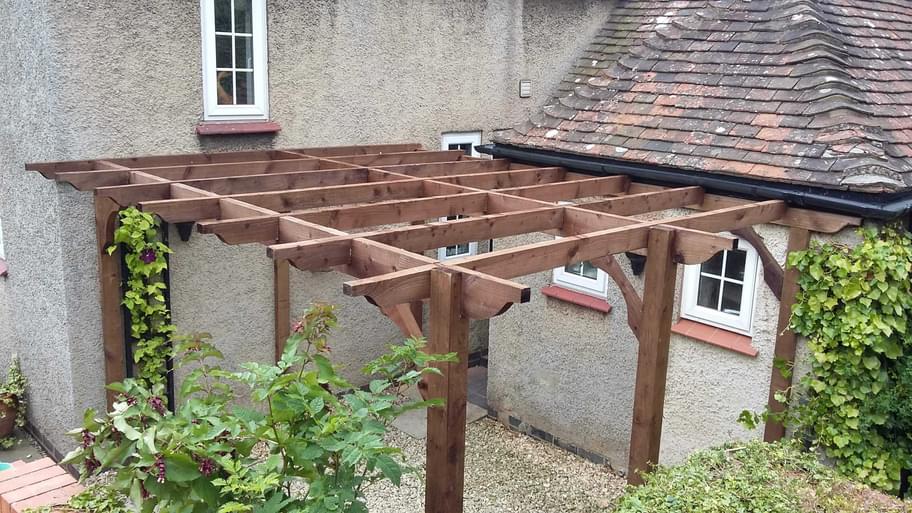 What makes this project special?
The customer wanted to create a partially covered seating area attached to their house. Kevin suggested a pergola as this would afford a degree of shade an also provide a support for the climbing plants that the customer wished to grow.
About the product
As the pergola was required to support plants as well as provide shade, Kevin recommended using 47mm x 150mm bearers and 47mm x 100mm top beams, the whole being supported using 100mm x 100mm PermaTimber® posts offering the customer the Cheltenham Fencing 15-year guarantee.
As the customer wanted the pergola close to the house, it was decided to attach the construction to the building using 47mm x 100mm wallplates. The finishing touches were added with scrolled ends to the beams and bearers and decorative corner braces.
Products Used:
47mm x 150mm pressure treated bearers with scrolled ends
47mm x 100mm pressure treated beams with scrolled ends
100mm x 100mm PermaTimber® posts top-notched to receive 150mm bearers
47mm x 100mm wallplates and construction screws
Good to know:
The timber was supplied with a 10-year guarantee and the PermaTimber® posts have a 15-year product guarantee.